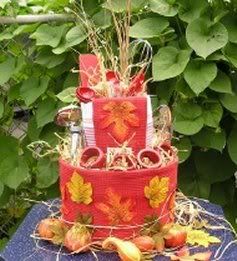 Thanksgiving is just around the corner; can't you just smell the crisp brisk air, pumpkin pies, apple cider and more? This holiday means turkey, stuffing, gravy and huge holiday feast. Football kicks off the winter season for me and the start of holiday baking. This holiday towel cake is perfect to give as a early housewarming gift, or prepping for the huge feast. From seasoned cooks to newbies it's a gift they will all enjoy.
This cake has all the right ingredients to help make a fabulous turkey feast..
Ingredients for this cake as follows:
– Fall kitchen hand towel set for the outside layers
– Six extra hand towels for inside cake
– Four napkins for inside top layer
– Four napkin rings
– Turkey baster
– Injector for adding you favorite spices, or flavoring
– A wire whip
– Gravy ladle
– Nut cracker
– Sliver spoon and fork for salad serving
– Measuring spoon and a spatula
– Raffia and fall floral sprays
– Fall silk leaves
– Fall plastic pumpkins and gourds
– Glue sticks and gun
To make, use my instructions on making the towel template. Fill bottom layers inside with the six hand towels. For second layer fill top template with the four napkins.. Leaving a hole to put baster through. Fold dish rag lengthwise and insert into top layer with the other end hanging down to second layer.
Take the rest of items and insert around cake placing wire whip into top layer and place fall flowers with fall spray behind wire whip. Fill in holes with raffia
Place cake on a square cake board .Glue silk leaves on to bottom layer and top. Take fake fall pumpkins and gourds and glue onto cake board around cake place some raffia there as well.
Another idea for someone who loves to bake for turkey day; fill cake with either apple or pumpkin pie supplies. Or fill cake with baking supplies for the go-getter that starts their holiday cookie baking right after Thanksgiving day.
That's it. A perfect Turkey Day cake can now be made for your family and friends. For more information on our holiday cakes, a diaper cake, or any other specialty cake, stop by the website at http://www.makeadiapercake.biz. Not only do we have complete instructions for making cakes, but an ebook as well that walks you though step by step. We can also design the cake for you. Whatever you need, you'll find it here! Gobble Gobble 🙂
——–
Barb Ireland is the founder of Make A Diaper Cake Biz, http://www.makeadiapercake.biz. You can purchase a diaper cake, learn how to make a diaper cake, or start your own diaper cake business at her site. Articles are free to be reprinted as long as author's bio remains intact.