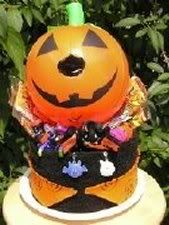 Halloween will be here soon! Goblins, ghosts and ghoulish fun oh my! Halloween has always been my personal favorite. The start of autumn, pile of leaves burning, pumpkin farms and more gives me that warm fuzzy feeling of winter and fun is on the way. It has been a tradition in my family to have a huge Halloween bash; great for the kids and safe too. This new design can be customized for any size party and ages.
See below the five top reasons for making this holiday cake.
1. This cake is unique and your guest's no matter what the ages will be delighted at the time you took to make such a wonderful gift.
2. You could also use this design and change the contents inside for a Halloween diaper cake complete this with adding a little cute costume for baby in your cake design.
3. Practice safety with having a Halloween bash include fun cakes as part of your theme. Tuck in little gifts, games, candy or toys for the kids.
4. All of the items can be used to create a fun atmosphere.
5. You can welcome a new puppy or kitten by using kitten or puppy Halloween outfits, disposable camera to take pictures of them in their cute little outfits. Halloween themed chew toys and other items new pet owners will need for their kitten or puppy.
Whichever you choose you'll be delighted you made this cake and put a smile on their faces young and old, and that you too can celebrate Halloween in style.
For more information on making our holiday cakes, a diaper cake or any other specialty cake, stop by the website at http://www.makeadiapercake.biz. Not only do we have complete instructions for making cakes, but an ebook as well that walks you though each step. And don't forget, we can make them for you too.
————
Barb Ireland is the founder of Make A Diaper Cake Biz, http://www.makeadiapercake.biz. You can purchase a diaper cake, learn how to make a diaper cake, or start your own diaper cake business at her site. Contact Publicist, Diana Ennen at qvnan@iveghnyjbeqchoyvfuvat.pbz. Articles are free to be reprinted as long as author's bio remains intact.